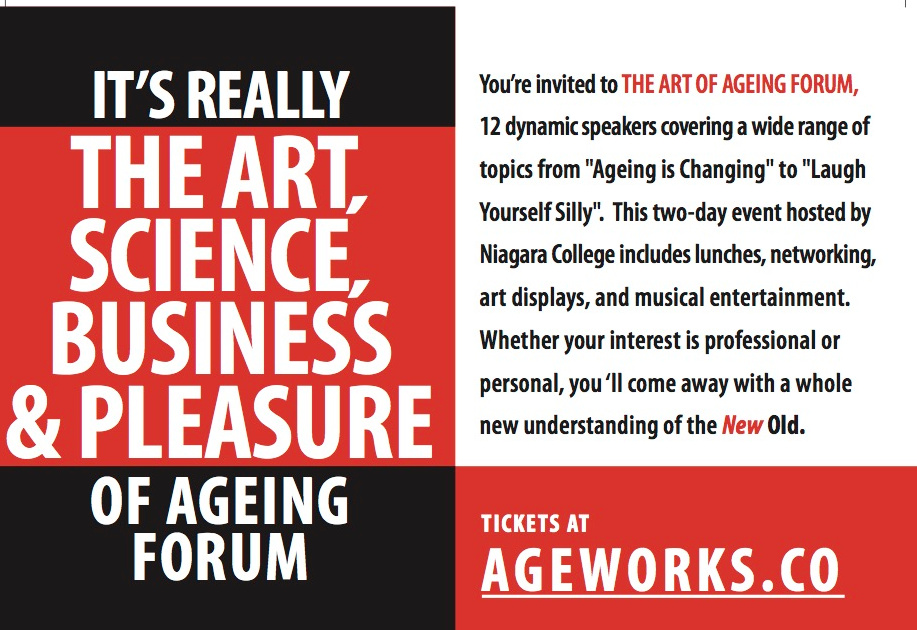 AGEWORKS – The Art of Ageing Forum, Niagara College, June 26 & 27, 2019
TWO DAY FORUM STRIVES TO RESHAPE CURRENT ATTITUDES ON AGEING
Twelve dynamic speakers cover a wide range of topics from "Making Sense of a Longevity Economy" to "Your Future Reimagined" and "Laugh Yourself Silly"
AGEWORKS – The Art of Ageing Forum, Niagara College – June 26 & 27, 2019
Niagara Region, ON – May 6, 2019 – Are you a business professional who targets older people?  Do you want to better understand them? Are you an academic who thirsts for more knowledge about this growing demographic? Or perhaps you're a mindful consumer who cares about issues pertaining to ageing and longevity.
Hosted by Niagara College, AGEWORKS – The Art of Ageing Forum presents a varied assembly of thought leaders, organizations, and individuals who are striving to make a difference in terms of reducing ageist attitudes and reshaping what it means to age. Each of the 12 intriguing presentations will contain information and facts that will enlighten professionals, academics and inquiring consumers alike.
Business professionals can hear and discuss how global and local population trends and longevity issues can impact their business, and get an inside track on emotional triggers affecting their clients' decisions as they age. They can also examine their own personal thought processes and behaviours about ageing issues to improve their professional perspective.
For academics and mindful consumers who are curious about positive ageing, the Forum provides an opportunity to immerse oneself in engaging presentations that will invoke new thoughts and motivations about ageing positively beyond just eating well and exercising.
"The Art of Ageing Forum provides a unique opportunity for people to stimulate their minds and examine new ways to think about what it means to age," says Marylou Hilliard, principal of AGEWORKS, a Canadian company committed to reducing the ageism stigma and debunking myths about older people.
"We invite the public of all ages to come and share in these educational presentations and our networking event where participants can engage in enlightening dialogue. The Art of Ageing Forum is a 'must attend' event if you plan on ageing anytime soon," she adds.
Location: Niagara College (Welland Campus) – 100 Niagara College Blvd, Welland ON L3C 7L3.
Space is limited.  Only 300 tickets will be available each day. Early bird tickets are available until May 31. For ticket information, please visit www.ageworks.co.
Discounted rooms are available at the Niagara College – Campus Residence and Conference Centre for $84.95 per night.  The booking code is on the website.
"We are proud to be a part of AGEWORKS' exemplary forum, filled with sessions bound to challenge the status quo, leave you invigorated, intrigued and no doubt with a different view of ageing," states Carolyn Triemstra, Dean of Niagara College's Community and Health Studies division and host of The Art of Ageing Forum. "Niagara College is a strong advocate of lifelong learning, offering programs and services that support the needs of an ageing population and welcoming more older and second career adults to our campuses. In fact, earlier this year, NC was announced as Canada's first college to become a member of the Age-Friendly University Global Network, in recognition of the College's commitment to ageing, and my division has naturally supported many age-friendly initiatives through much of our course work and community partnerships."
Summaries of what some of the presentations will cover include:
"Ageing is changing" – Dr. Jane Barratt, Secretary General, International Federation on Ageing (IFA)
A non-government organization with a membership base in 75 countries, and a consultative status at the United Nations and its agencies, the IFA actively advocates on behalf of older people and maintains a strong voice on how to protect their rights globally. This session explores how global entities such as the IFA and World Health Organization are helping to shed light on the need for global change and adaptation to the massive shift in demographics.  It provides a snapshot of global trends and the impact it will have on societies both in the developed and developing worlds.
"Neuroplasticity" – Barbara Arrowsmith-Young, Founder Arrowsmith School and Author
The power of the mind to adapt and change is highlighted through the story of Barbara Arrowsmith-Young, author of "The Woman who Changed her Brain".  Barbara will reveal some recent research to prove that the brain can be exercised, an important factor in helping to stay cognitively healthy.
"The Positive Effects of Mindfulness" – Deirdre Walsh
The power of mindfulness lies in its fluidity. It functions at three levels – as technique, as practice and as intrinsic quality. When you want to connect with life at a deeper level, mindfulness is the path to get you there. Deirdre will share how and why regular mindfulness practice changes things and the positive influence it can play in your life.
"Making Sense of a Longevity Economy" – Mark Venning, Change Rangers
Explore opportunities in a Longevity Economy for you as a consumer, a business or a new career seeker. Many markets with products and services, direct or indirect consumer facing, make up a Longevity Economy, which includes all economic activities related to the needs of older adults generally 50-plus. In its evolution this economy now includes Gen-X and by 2030, the first Millennials who will be turning 50. Can you imagine how marketing to a 50-plus consumer might change?
AGEWORKS
AGEWORKS is a company committed to reducing the ageism stigma and debunking myths about older people in both the workplace and the marketplace. AGEWORKS not only raises awareness of issues associated with ageism but has introduced tangible initiatives to support companies who target older individuals, encourage and assist individuals who wish to reinvent themselves and celebrate the "art of ageing" through workshops, special events and forums.
While many still see the aging population as a problem, the principals at AGEWORKS see it as an opportunity to positively impact the Canadian economy and the lives of all generations by maximizing the skills, talents, experience and buying power of older people. They believe that "age works" to the advantage of business and society at large.
Niagara College
Niagara College offers more than 130 diploma, bachelor degree and advanced level programs; as well as more than 600 credit, vocational and general interest Part-Time Studies courses. Areas of specialization include food and wine sciences, advanced technology, media, applied health and community safety, supported by unique learning enterprises in food, wine, beer, horticulture and esthetics. Visit niagaracollege.ca.
For further information or to schedule an interview, please contact:
Marylou Hilliard
Principal
AGEWORKS
416-953-2832
Julie Greco                                                                                                                                      Michael Wales
Communications Consultant, Niagara College                                                                       Manager, Communications, Niagara College
Office: 905 641-2252 ext. 7368                                                                                                    Office:  905 735-2211 ext. 7773
Cell: 905.328.2532                                                                                                                            Cell:  905 328-4101